Many clients are asking how hardware and software companies can craft strategies and plans to raise prices. By itself, raising prices is not a good idea: what's in it for the customer? Nobody wants to pay more for the same product or service, with the rare exception of inflation. But even inflation is not popular. To be have a successful strategy at raising prices, you need to come up with a plan your customers will love, and at the very least, not dislike. How to raise prices in enterprise software is an art and a science. In this post we cover 3 strategies that have been proven to work in enterprise software.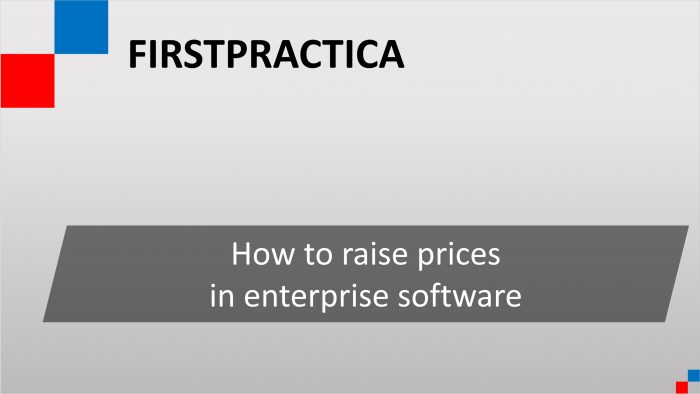 1. Add more value
The price a customer finds fair to pay depends on the features, and how much value the software automation delivers. If there are a ton of features that don't produce value for the customer, it becomes hard to charge any premium. It is especially the case of there are competitive products that are priced similarly or cheaper, or even free software like open source alternatives. Even in the case of open source, there is room to add value through enterprise binaries, technical support, updates, monitoring, and so on. If you innovate on new features customers want, they will be willing to pay more for your products.
2. Create new pricing plans
Now that you innovated, you need to differentiate the price of X for the features you delivered in the previous version, or for the plans your customers signed up for until now, from the price of X+1 you want to charge. One of the simplest ways to do this is to create a new plan that include the additional features, at your target price increase of +1.
In addition, you could charge more for the existing features, for new customers that sign up for your software or service going forward. New customers did not know about your previous pricing, so they will be unlikely be bothered by the increase — all else being equal with products that compete with you in the market. It is the existing customers who have been paying X, who may find it unfair and unjustified.
3. Keep the old plans for your existing customers
Think incremental. With the churn rate of customers over time, your existing customer base that pays the original price will represent a smaller and smaller percentage of your total sales. As a result, you can increase prices:
for new features, with premium plans
for the same feature set, with new plan names and bundles for new customers, going forward
All you need to do for this work, is to keep a price list internally to your organization, that your sales team can keep extending to your existing customer base. These old plans work wonders in keeping your first and existing customers happy, while giving you the freedom to raise prices — fairly — to your new and future customers.